"Art is the heart of an unseen God"
To view Rebecca's gallery of current art for sale go to www.artblr.com
Search Rebecca Manns in the "find artworks " search field on the front page.
Once on Rebecca's profile filter by "most recent".
If interested in a piece you may message me through artblr.com
Or, message me directly at rmanns@centurtylink.net
"Art is God's way of saying hello"
What Is Soul Art?
It is any art form that is inspired (in spirit) by the non-physical, the world is intimately known by Rebecca that exists alongside us all.
What Your Soul Art is Capable of Doing for You
Soul art is considered a type of talisman or portal to your personal spiritual blueprint. Not only can it include healing for your current life, it can also heal your spiritual DNA that your soul brought with you to this incarnation.
When you commission a personal one-of-a-kind soul painting through Rebecca she channels information from various spiritual vibrations. This could be from the Universal Light, Angels, your own soul, spirit or higher self, spiritual helpers, healer guides, animal totems, passed loved ones including pets. These are just a few of the spiritual sources typically used by soul artist. In truth, there are infinite divine energies that may come forward .
How Are They Made?
As Rebecca meditates on your soul painting she will retrieve personal messages (that you will receive) and be given guidance as to the colors and imagery included. The interpretation of spirits guidance will contain your personal portals and codes for self healing, yet will expand to touch all concerned within your energy circle.
She uses various mediums to create her soul art. Your painting may be completely done in oil, mixed media or collage.
Your personal painting will carry the highest divine energy possible according to your needs for healing and spiritual advancement. Only spirit knows the end result as all things are created in spirit first and then manifested in this dimension.
Commission Cost & Delivery Time
All commissioned paintings are created on 12″x12″ acid free, archival board. Unframed, so you may choose the perfect frame for your decor.
Investment in you  -275.00 + shipping
Custom sizing can be arranged. Prices may vary.
Creating soul art in not a small task. It will take many hours, and up to 8 weeks, including drying time, to accomplish your piece as Rebecca prays and goes in and out of meditation to consult with spirit.
Dream Paintings
Rebecca also offers dream paintings for commission. Dream paintings are representations of a dream that you tell Rebecca about and would like to have manifest in physical form. As we know dreams can be very healing yet mysterious. Rebecca will interpret and do a reading, that you will receive, on your dream. This will help you to recognize its true meaning and message from spirit. Having your dream in the physical creates many energetic shifts and integrations of healing and personal growth.
Spirit Helper Paintings
Also offered are soul paintings of your spirit guide, animal totem, and Angels. Personal message always included.
An Expression Of Self Love
Should you decide to move forward with a soul painting, know you are supported by the divine and this is something you have chosen to do for YOU.  Honor that.  You are worth it, and initiations such as these can be profound for shifting the previously un-shiftable in your life.
Please contact Rebecca to discuss your soul painting. There is a nonrefundable 50% deposit to get started. Fees are accepted with personal checks or PayPal can be arranged.
Channeled Spirit Message about Rebecca's Soul Art
"These creations are healings from the inside out. They are to be examined and cherished for every nuance. The colors carry vibrations of success but it also heals failures from past lives long ago never forgotten. The white on any of these creations are spaces of love and consideration of all concerned not only the owner, but to everyone that is cherished and linked to the owner. The colors are only the first to be examined, but you will see the nuances of the brushstrokes. It will cause you to reject blockages of fear, shame, anger etc. that you have carried from lifetimes to lifetimes. These things will be rejected at the site of a single hair on an Angels head in these creations. Animal eyes will carry the fear you have known and they will wash it away from your inner self and with one look of an owls face you will realize that you were once one with the owl and always have been. These examples and many more will be throughout Rebecca's creations .
It is worthwhile to consider engaging in this healing practice for the generations to come because it not only heals yourself, but remember it heals everyone around you. In particular your loved ones and family when hung in your home. Maybe you don't want to do it today, but you will consider this in many ways in your soul and when you are ready you will respect the teacher that will come through the images and the creativity of the spiritual healer we call "Little one with the voice connected to a thousand threads of the universe."
– Peace to all
We are the three that speaks through the one.
What People Are Saying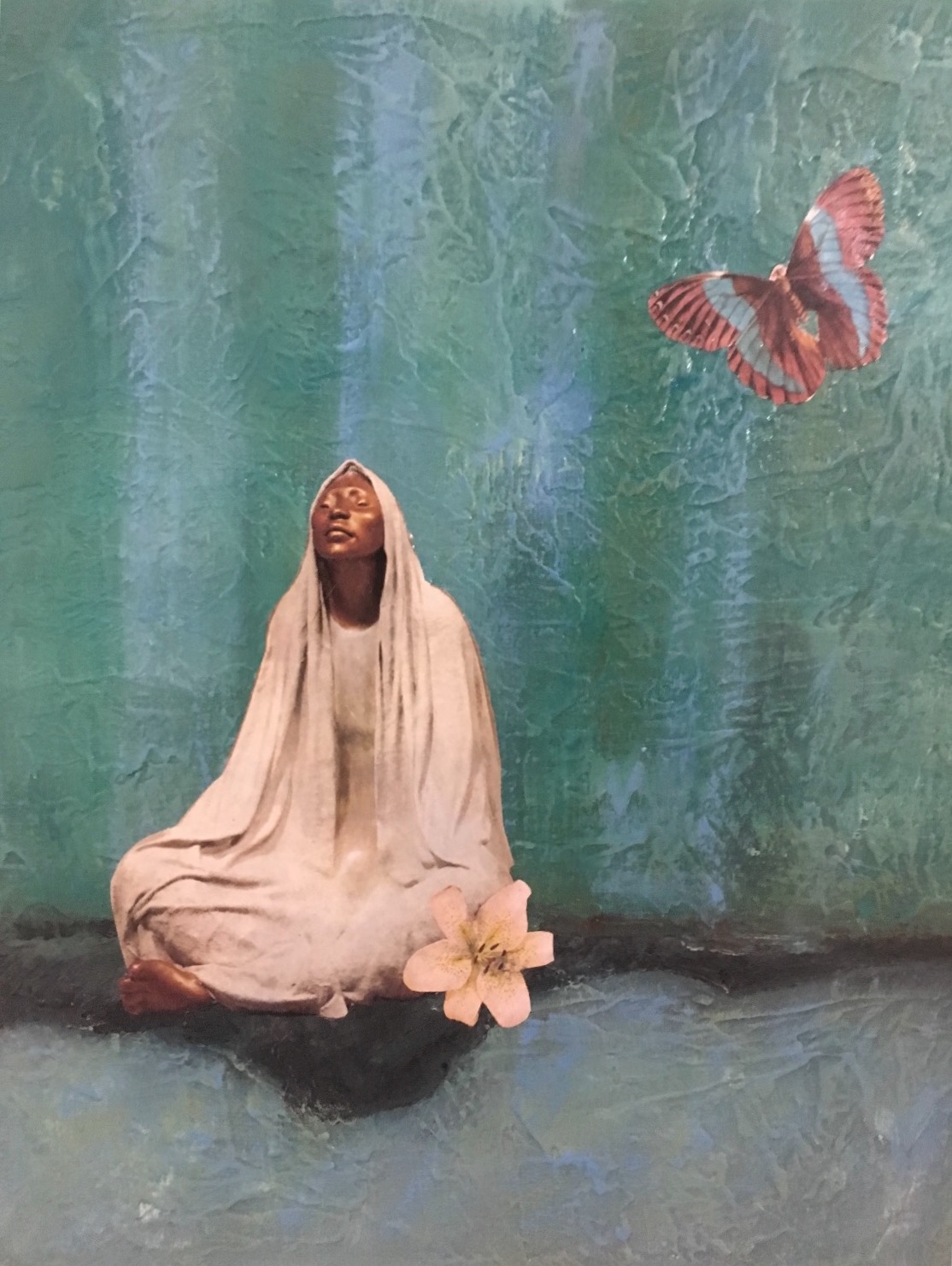 "I felt an immediate connection to this tranquil piece when I first saw it. Rebecca brilliantly captured the mood of what I was searching for at a moment in my life where everything felt very chaotic and unbalanced. She intuitively created the essence of what my soul was seeking and I couldn't believe the synchronicity. The piece is fittingly titled "Uncovered Serenity".
It had divine timing written all over it as I was literally planning my own meditation room and I knew instinctively it was made for me! It brings me so much peace every time I look at it and is a constant reminder that truly the peace I'm seeking is already in me and just has to be Uncovered!
Rebecca's gift and compassion shine through in her art. I thank you Rebecca for blessing me with your healing art!"
– Michelle, Akron Ohio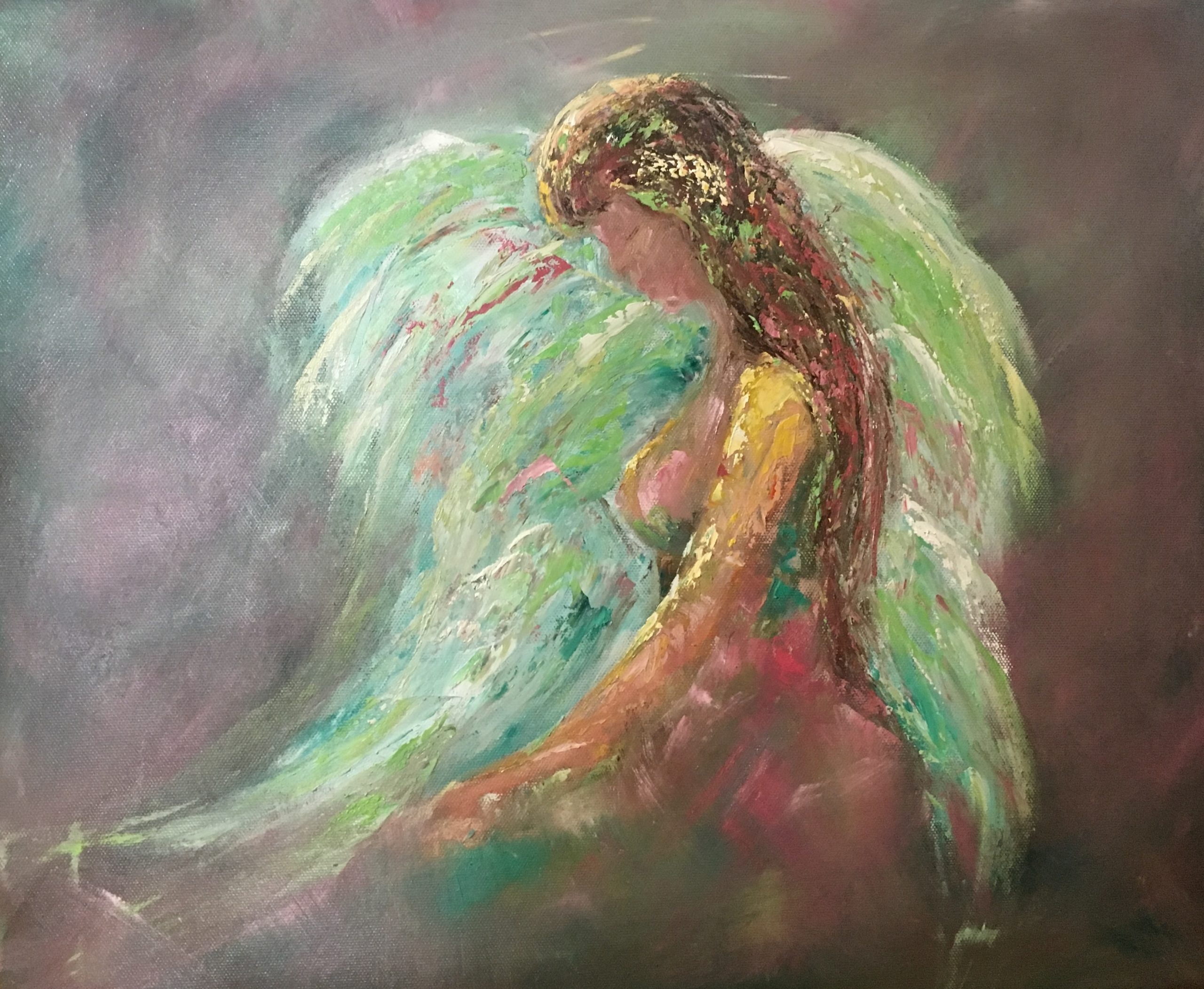 "As a medium, Rebecca has been reading for me for over 20 years. Recently she has given me many inspiring messages from my Mom while I was going through cancer treatment. After 2 years of battling cancer I am clean and these messages kept me in a positive frame of mind. Just knowing they are giving support from the other side, makes all of life easier. This angel painting constantly reminds me to know I am watched over.
Many thanks for allowing me to have this special soul painting on my bedroom wall to greet me in the morning.
– Shirley, Crestone Colorado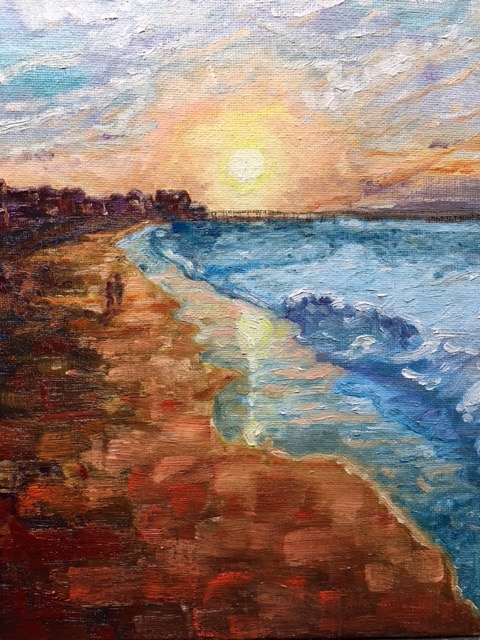 "I love this painting by Rebecca of Patricia, my late wife, and me on the beach. When I look at her painting, I am overwhelmed with the comforting feeling that my deceased wife is as close to me as she is in the painting.
Rebecca is so intuitive and talented and this painting is a generous gift from spirit.
It was Rebecca's effort to portray my feelings of love and contentment in walking on the beach with Patricia's presence at my side.
Rebecca is remarkable both as an artist and medium. I will always cherish this extraordinary soul painting.
-Alan, Virginia Beach Virginia
Rebecca's Soul Art Products
May 27, 2021